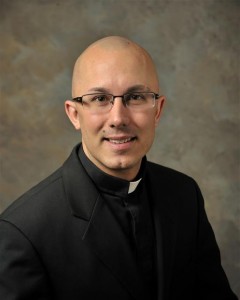 Can any of you remember falling in love with Jesus? When was the first time you discovered God's love through the kindness of a friend? When was the first time you felt the grace of God being offered just for you, in a time you really needed to hear those words, "It's ok, I love you." It is a sad reality that many people of this world have never felt the relief of forgiveness or the warmth of love that comes through knowing who Jesus is. It is also a challenging reality to know that many baptized Christians have never fallen in love with Jesus.
Many people have moments when they can first remember falling in love with Jesus. We sometimes call these "mountaintop moments." Although rare in our day and age of noise and hectic lives—they do happen. Many of us who cannot point to a single moment of conversion have had the experience of simple, humble moments when we have felt God near us. The embrace of a loved one after getting some bad news. The joy that fills our hearts when you hear those words, "you're going to have a baby." The sudden realization that Jesus really died and rose again—just to get closer to us. Maybe it was through a traumatic experience or during a worship service when you felt a sudden warm rush of emotions and you thought, "Sure, I've believed, but now I know my faith is real." The love of Jesus is experienced in so many ways. We only need to look at our lives and where we have been to realize Jesus has been at our side through it all.
I am always humbled by the great love that the children of our church demonstrate week after week. As we watch them grow and learn about Jesus, as we witness them falling in love with Jesus as they sing the VBS songs long after VBS is over, and as we hear their astonishing wisdom, we encounter a living God who guides us, loves us, and speaks to us in remarkable and unexpected ways.
If you have forgotten when you fell in love with Jesus, join us in remembering. If you need to fall in love with Jesus all over again, join us in remembering. If you have never fallen in love with Jesus and you don't know where to start, join us in remembering. Join us in remembering how much Jesus loves us through another exciting year here at Ascension. Encounter a God who loves you through worship; hear God's holy word and partake at God's holy table. Learn the story all over again or for the first time at Sunday school. Witness to others and grow in Christ through service and fellowship. Together let us grow in Christ as we remember—Jesus really did die for us, He really did rise from the dead, He really will return in glory, and yes, He really does love you!
Yours in Christ,
Pastor Joseph Murdy